MIAMI — In a run of remarkable accomplishments including the 2020 Chambers and Partners Diversity & Inclusion Award, 2021 Benchmark Florida Litigation Firm of the Year, and the trial win in Kleiman v Wright—Rivero Mestre is proud that Amanda McGovern was recognized by the Daily Business Review as Lawyer of the Year and that the firm was recognized as Litigation Department of the Year.
The awards were based in part on the representation of Dr. Craig Wright, also known as Satoshi Nakamoto (the inventor of Bitcoin), in a $600 billion trial that the media called "the trial of the century." The lawsuit alleged that David Kleiman had a partnership with Dr. Wright to invent and mine Bitcoin, thereby generating an alleged 50% stake in the cryptocurrency technology. After a month-long trial and seven days of jury deliberation, in a case that was widely thought to be unwinnable, the jury returned a verdict in favor of Dr. Wright. The jury found that Dr. Wright was not Kleiman's business partner and that Kleiman's estate was entitled to none of the multibillion-dollar Satoshi Nakamoto fortune.
During the trial, the team presented compelling evidence that Dr. Wright is the sole inventor of Bitcoin and is in fact Satoshi Nakamoto. The victory was covered in more than 400 articles by publications across the world including Law.com, the BBC, The Wall Street Journal, The Washington Post, Al Jazeera, the Miami Herald, and the Associated Press.
In accepting the award yesterday evening at the Rusty Pelican (Key Biscayne), Amanda thanked her trial team—Andres Rivero, Jorge Mestre, Zalman Kass, Daniela Tenjido, and Alison Henry.
"The upside of trial and tribulation: It is so hard at different points in your career, you ask yourself, can I do what I love to do while raising my children, being my authentic self? For me, this award answers that question," Amanda said. "And I hope it answers the question for my children, and for the next generation of lawyers, particularly women, with an unequivocal 'yes you can.'"
The awards were announced on May 19, 2022, at the DBR's Florida Legal Awards event at the Rusty Pelican (Key Biscayne).
Read more about the DBR's Announcement of Attorney of the Year here.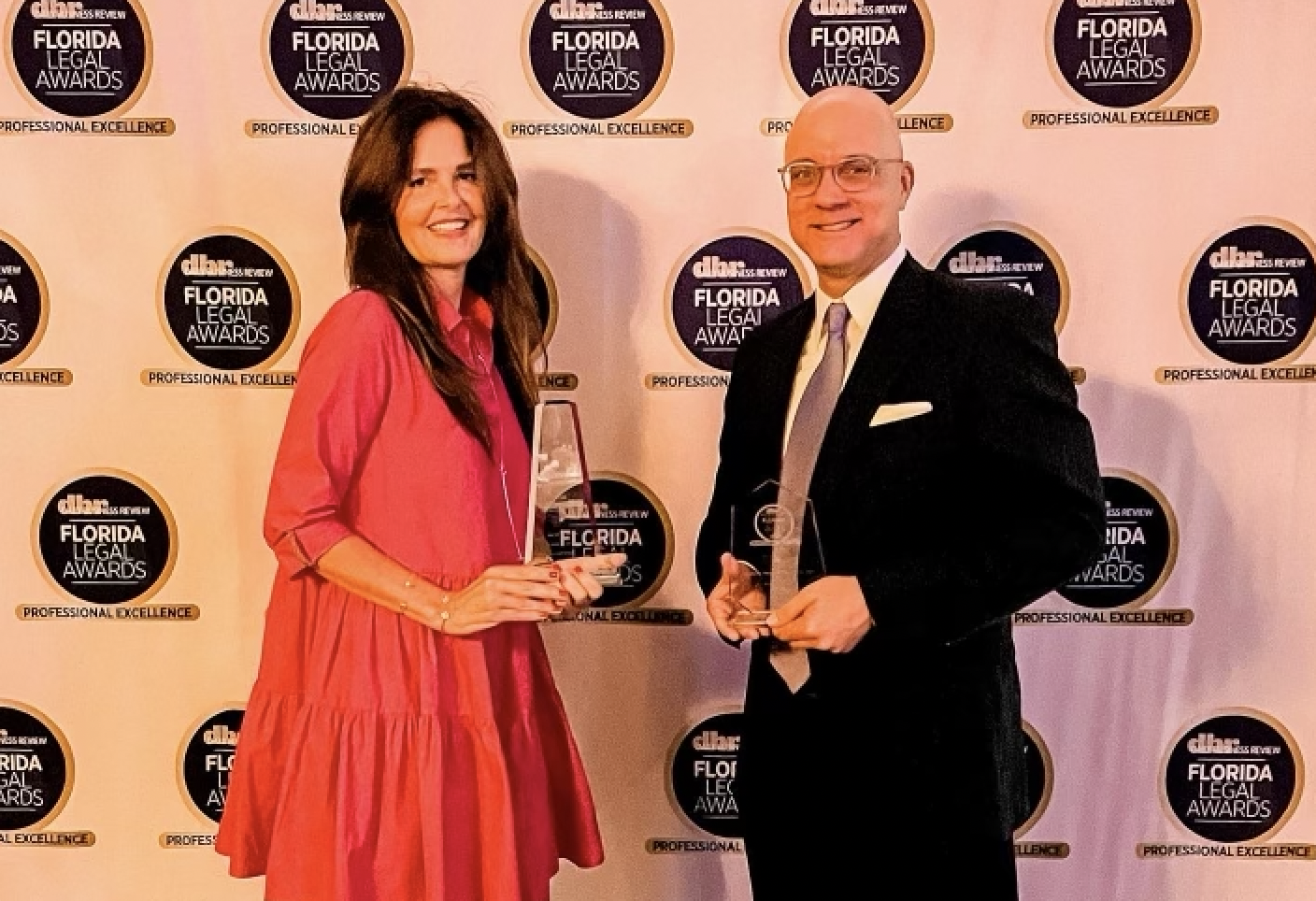 About Rivero Mestre LLP
Rivero Mestre, from its offices in Miami and New York, represents clients from investigation to verdict and appeal in complex business disputes in U.S. federal courts, state courts, and domestic and international arbitration proceedings. The firm's practice focuses primarily on representing clients in a broad range of complex commercial disputes including financial institution matters, antitrust matters, intellectual property disputes, and litigation and arbitration relating to Latin American trade and investment. For more information, visit www.riveromestre.com.