Rivero Mestre partner, M. Paula Aguila, served as Chair and Moderator for Latin America & Caribbean Committee Panel at the American Bar Association (ABA) International Law 2017 Spring Conference in Washington D.C., "Panama Papers: Exposing the Powerful," on April 27, 2017.  Panelists included:
Daniel R. Alonso, Exiger, New York, NY
Guillermo S. Christensen, Baker Botts LLP, Washington DC
Ana Irene Delgado, Socia de Solis, Endara, Delgado & Guevara, London, UK
Adria Perez, Kilpatrick Townsend & Stockton LLP, Atlanta, GA
About the session:
The "Panama Papers" exposed financial dealings of some of the world's richest and most powerful individuals including a number of high ranking officials in Latin America. The papers include financial records, legal documents, and correspondences dating back over 40 years. These files reveal secret offshore accounts of current and former world leaders as well as individuals with close ties to political and business figures around the globe. A number of Latin American leaders are allegedly implicated in this corruption. The Panama Papers leak will likely raise legal issues for years to come. The panelists discussed the legal ramifications of the Panama Papers, including issues of law relating to cyber security, white-collar crimes, international litigation and finance.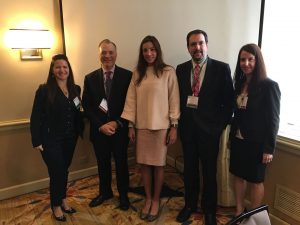 About Rivero Mestre LLP
Rivero Mestre, from its offices in Miami and New York, represents clients from investigation to verdict and appeal in complex business disputes in U.S. federal courts, state courts, and domestic and international arbitration proceedings. The firm's practice focuses primarily on representing clients in a broad range of complex commercial disputes including financial institution matters, antitrust matters, intellectual property disputes, and litigation and arbitration relating to Latin American trade and investment. For more information, visit www.riveromestre.com.