MIAMI — Andrés Rivero is featured on the cover of Corporate Counsel Magazine. The cover story discusses Rivero Mestre's work for Chevron in the Chevron v. Donziger litigation.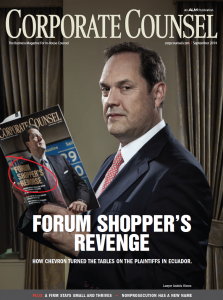 [sdm-download id="3003″ fancy="0″]
Rivero Mestre represented the chief in-house counsel for "TexPet," a subsidiary of Chevron Corporation. Rodrigo Pérez Pallares was the victim of bogus criminal charges brought by the Government of Ecuador, which was working in collusion with plaintiffs' lawyers attempting to extort a multi-billion dollar settlement from Chevron for claims of environmental damage dating back to 1990 when TexPet ceased its Ecuadorian operations.
In 2010, Rivero Mestre commenced a series of U.S. discovery proceedings under 28 U.S.C. § 1782 to collect evidence for Pérez Pallares' criminal defense in Ecuador. Most importantly, it sought and obtained the outtakes of a film about the Ecuador litigation—Crude, directed by documentarian Joseph Berlinger, best known for Paradise Lost: The Child Murders at Robin Hood Hills. On June 17, 2010, the Ecuadorian court dismissed the criminal charges based on the U.S. discovery materials.
About Rivero Mestre LLP
Rivero Mestre, from its offices in Miami and New York, represents clients from investigation to verdict and appeal in complex business disputes in U.S. federal courts, state courts, and domestic and international arbitration proceedings. The firm's practice focuses primarily on representing clients in a broad range of complex commercial disputes including financial institution matters, antitrust matters, intellectual property disputes, and litigation and arbitration relating to Latin American trade and investment. For more information, visit www.riveromestre.com.