M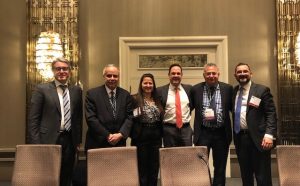 IAMI—Andres Rivero and Paula Aguila spoke at the ABA Section of International Law, 2018 Annual Conference in New York, on a panel titled: "International Discovery: Cooperation between Latin America and the United States in Discovery Procedures."
The panel discussed the legal tools available for engaging in international discovery, including 28 U.S.C. § 1782, the primary method of obtaining evidence in the United States to assist litigants in foreign and international tribunals, and The Hague Convention on the Taking of Evidence Abroad, the primary method of obtaining evidence in Latin America for foreign litigation. The panel was moderated by Paula Aguila, Co-Chair of the Latin American and Caribbean Committee of the ABA SIL, and speakers included: Andres Rivero of Rivero Mestre, Retired New York Supreme Court Justice Ariel Belen, of JAMS in New York, Eddie Varon Levy, of the Law Offices of Eddie Varon Levy in Mexico City, Mexico, Mauricio Salas, of BLP in San Jose, Costa Rica, and Sergio Andre Laclau, of Veirano Advogados in São Paulo, Brazil.
The 2018 Annual Conference is the Section's premiere plenary meeting and a "Must Attend" for Section members and attorneys whose practices implicate international issues.  World class speakers, cutting edge programs, and constant networking/relationship building are Conference hallmarks.
Aguila's practice focuses primarily on commercial litigation, including international litigation and arbitration, and white collar criminal defense. She defends and prosecutes substantial business disputes before the Courts of the United States and the State of Florida, as well as in domestic and international arbitration proceedings. Rivero's practice is focused exclusively on complex business litigation, including international arbitration and litigation. A former federal prosecutor, Rivero is a skilled trial lawyer with more than 30 years of experience in representing corporations and entrepreneurs in banking litigation, intellectual property disputes, antitrust and securities claims, and partnership and shareholder controversies.